Lead generation is at the top of every company's mind. In order to drive revenue, you have to have qualified leads. The act of generating and garnering interest among people who fit your product or service's demographic involves a lot of nurturing. More leads means more revenue, more revenue means happier customers, and happier customers means more advocates for your company. So, where are the best places to find your potential customers?
Enter digital marketing — reaching out to prospects online and making it easy for them to find your business. With over 3.2 billion people using the internet, digital marketing now gives your business access to an audience reach that is larger than what we have ever had before. You're bound to generate plenty of new business just by trying out these five easy ways to generate leads through digital marketing.
Website Optimization
Having a well-laid out website that is easily navigated by visitors is integral to how these visitors will respond to your product offerings. You can have the best product in the world but if there are no clear actions to take on your website, customers will eventually bounce without purchasing or submitting their information.
Every website should have a clear call-to-action (CTA). Your call-to-action should be at the forefront of your website, appeal to your target customers, and be enticing enough to elicit an action from your visitors. Without a clear CTA, visitors don't have a flow of action to take which leads to a negative experience.
Lastly, make sure everything on your website is updated. There is nothing that ruins credibility on a website more than old information and an outdated look and feel. Take the time to constantly add new content to your site. This will also help you when you are trying to get a higher rank on search engines. More on this later.
Outbound Email Marketing
Email marketing can be used for many different forms of communication. Whether it's a cold email letting potential customers know about your product or an eBook/White Paper offering to those who are interested, email marketing is one of the most inexpensive ways to reach the masses.
There are many email automation tools out there that make running daily email campaigns very seamless. However, companies rarely get anywhere by just grabbing a list of emails off of a list they bought and uploading it into their email automation platform. Spam is a serious issue within email marketing and can get you into some serious trouble so make sure the contacts you email have opted in to your messages!
Although email marketing is not the most appealing way to convert potential customers, it is still one of the most effective in pushing potential customers further down the sales funnel. If you have a huge list of potential customers at different stages of the buying cycle, you should consider looking into a email marketing automation tool.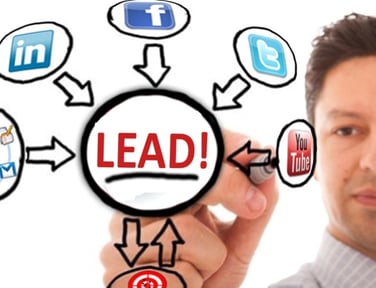 Social Media
There are currently a little over 2 billion people in the world active on social media. This means that your online presence is as important as ever. Big social media platforms like Facebook, Twitter, Instagram, and LinkedIn can all serve different purposes in who you are trying to target. For example, LinkedIn is perfect if you are a B2B company because of the professional reach that connects you with businesses. Make sure you understand which social media platforms your target customers like to use and go after them there.
Social media makes the lead generation process even easier because contact information is readily available. A great way to collect this information is by holding contests. It has been a huge hit on Facebook for years. The upside is that they draw a lot of attention. The downside is that the leads you get aren't always the most qualified because you'll have a lot of freebie seekers.
Search Engine Optimization (SEO)
Search engine optimization is the process of getting organic traffic to your site by ranking for the phrase that someone searches for. Google, Yahoo, and Bing are the search engines that are most widely used and each search engine has a certain algorithm that determines where you rank on their search results.
Customer Archetypes - Come up with 3-4 audience personas that matches your target audience. This will help you create better content for your audience.

Keyword Research - Find the search phrases that customers are typing into search engines that best describe your business and what you do.

Step Into Your Customer's Shoes - When you create content, do so with the goals and interests of your customers in mind. Lead generation through SEO is most effective when you stay true to your brand and value your customers.

Content Freshness - Adding new content onto your website is paramount in making sure your page is climbing the ranks. Weekly blog posts are pretty much a requirement for companies. In fact,

60% of marketers say blog content creation is their main source of inbound traffic

.
Gated Content
Gated content can mean a downloadable eBook, a white paper that peaks the reader's interest, or anything that you can leverage to your audience as something worth giving their contact information out for.
For example, a fitness company could come out with an eBook on "the best exercises to lose body fat." This in turn leads to gym-goers who wants to download the eBook. By writing compelling articles, eBooks, and white papers targeted directly to your target audience, your audience is a lot more willing to give up an email to read your content.
A best practice here is to give your audience or readers a short preview of what your eBook or white paper entails. For example, check out Yiftee's blog here on the Top Marketing Tips and Trends of 2017. Yiftee introduces what the readers will get with the download of their white paper and gives the readers a teaser. By doing this, you generate interest and readers are a bit more willing to give up their email to read your content.

Remember- content is always key to business success, so make sure you are utilizing it to the best of your abilities!
---
About Yiftee™
Yiftee is a Data-Driven Mobile Promotions & Gifting company serving multi-location restaurants, retailers, services and other partners. Yiftee helps its clients increase revenue by acquiring new customers and driving frequency. In addition to selling custom-branded eGift cards for clients' websites and Facebook pages, merchants can use Yiftee for BOGO, SMS, email and Twitter campaigns, and Birthday Club promotions, as well as incorporate Yiftee into their Loyalty rewards and customer recovery programs. Yiftee delivers greater value and better results than physical gift cards or coupons with promotions that typically bring 20% – 85% of promotion recipients in store. Yiftee requires no technology or POS integration, protects clients from fraudulent transactions, and can be up and running in no time. To learn why more than 56,000 businesses use Yiftee, please visit yiftee.com Twitter: @Yiftee, Facebook: facebook.com/yiftee/ or contact 650-564-4438 or info@yiftee.com