This week, we would like to share the inspirational story of Art Smarts, an afterschool program in San Diego, California that provides art lessons to children in the local community. While there are many wonderful art programs available, this one deserves special recognition because of the incredible commitment and sacrifices the organization has made to continue offering quality art education to children. For this reason, Art Smarts was recognized this year as a Peachjar Playmaker Award recipient, which granted the organization $500 in funds to put back into their programs.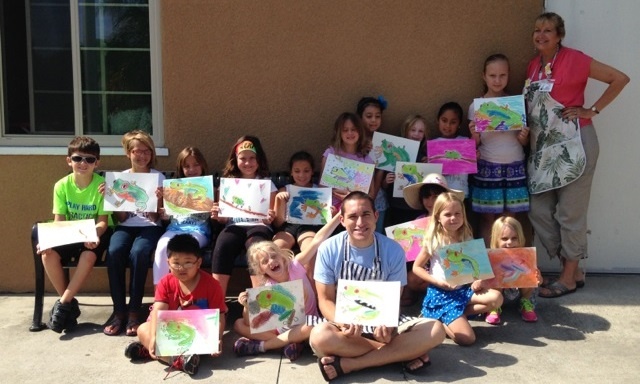 The Story Behind Art Smarts
Penelope Quirk served for 10 years as the Art Docent Coordinator for Murray Manor Elementary in the La Mesa-Spring Valley School District and during this time, discovered that there was a critical need for art education funding.
"I first saw the annual budget for art supplies for the entire year was $400 for over 500 students. That's less than $1 per year, per student for art supplies! I wrote and received several thousands of dollars in grant awards for the school to equipped them with proper art supplies and display boards, plus trained the volunteer art docents to give art lessons during school hours," Penelope shared. "The state law requires only 1 hour per month of art for each student, and I noticed the students would only get that 1 hour art lesson only if they had a volunteer art docent in their classroom. After avidly speaking up at the annual budget meeting, the annual budget for art supplies was raised to $1,200 per year for quality art supplies," she says.
Penelope recalls that as a child, art changed her life, specificially when she received an honorable mention ribbon at her school's art show. Penelope wanted to provide the same experience to children in her community, so she planned her first annual all-school art show at Murray Manor Elementary. Her team of art docents coordinated a full week of afterschool art time, where each student created a piece of artwork to be featured in the show. A total of 150 students came every day after school to work on their art, which was when Penelope saw the massive need for art education.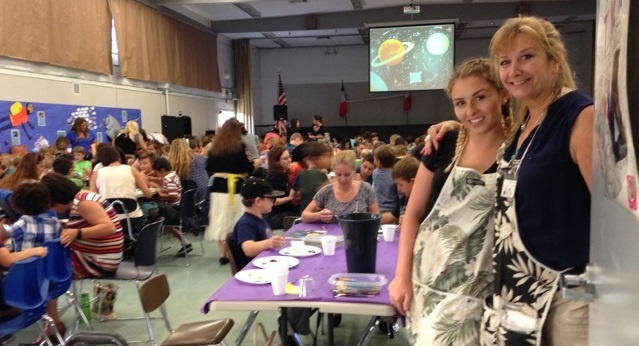 Today, Art Smarts serves over 300 students per week throughout the school year. The program is available in 15 schools, two recreation centers, plus Spring and Fall camps on top of Mt. Helix, as well as Saturday art classes at Mission Trails Regional Park. The program currently serves schools in the San Diego Unified School District, La Mesa-Spring Valley School District, and The Lakeside Union School District. Art Smarts has also provided art instruction on many other occasions, including birthday parties, Boy Scouts and Girl Scouts group outings, and even large school events such as a canvas painting event at Riverview Elementary, which served over 200 parents and children in one night.
According to Charlotte Carney, a staff member at La Mesa-Spring Valley School District, "Penelope has personally raised scholarship funds for Avondale students and run her program classes below her cost to provide art education to students at our Title I school. Last school year, Mrs. Quirk brought her program to Avondale but had to run classes at a loss in order to provide art education."
Art Smarts currently has a team of ten knowledgeable art instructors who dedicate their time to providing an enriching art experience to their students. As Penelope likes to say, "The Art Smarts staff is like a "well oiled machine"- upbeat, friendly, uplifting, professional and talented."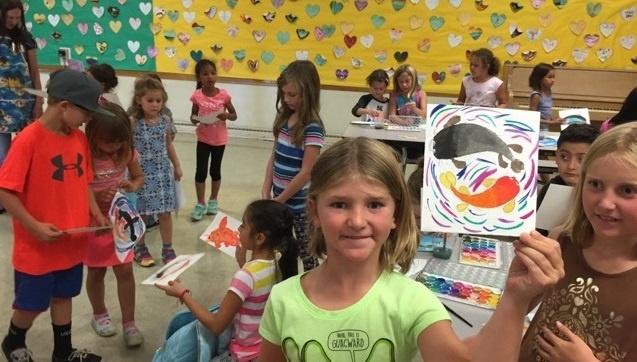 In an interview with Penelope Quirk, we asked her a few questions to gain a deeper understanding of what she offers to families in need, and how others in the community can lend a hand to the organization.
Q: Can you tell us more about the scholarships that you offer to your students?
As a small "for-profit" business, Art Smarts is not eligible for most grants to help with the costs to provide the art lessons to these children in need. Since there is no scholarship fund, they usually come out of my own pocket. Many times I give 100% scholarships and sometimes I offer 1/2 scholarships so that it will at least pay for some of the costs. I figure if a parent asks about wanting a scholarship, they are in need. The average scholarship is $96 - $108 per child, per session.
When Art Smarts Session 3 started at Murray Manor, I contacted a Kindergarten mom to ask if her daughter was continuing with her art classes. The mom said no because her husband had lost his job. I told her I would give her daughter a 100% scholarship for the session. She was so excited to hear that and said she would pay me back when they got back on their feet. I told her that would be okay, but wouldn't it be a lot more fun if you payed it forward rather than paying it back? That really inspired her!
Q: How can a child get started with your program? Are there any ways for others in the community to get involved?
A child can start anytime as we offer drop-ins. Most flyers sent through Peachjar have the school year broken down by sessions, and also show which lesson plans we will be teaching. If a child does not attend one of the schools we are offering art lessons at, they can always take art lessons at one of the Rec Centers where our program is offered, or join one of the Mt. Helix camps, or take lessons at the Mission Trails Regional Park.
For adults who wish to help, scholarship funding for those in need is greatly needed and appreciated.
---
What a heartwarming story! Thank you Penelope Quirk and Art Smarts for your amazing work to help students in need! You can contribute to Art Smarts by making a donation here.
Be sure to subscribe to our blog to read the next Customer Spotlight!