This week, we're so excited to announce the launch of Peachjar's Customer Spotlight blog series, where we celebrate the inspirational stories of afterschool programs that are making a tremendous impact in the lives of children in their community. Thousands of programs across the nation deserve recognition for their contributions to students and their families, and we're here to share their amazing stories.
The program provider we would like to shine the spotlight on this week is radKIDS Lake Norman, one of the five award recipients of this year's Peachjar Playmaker Awards.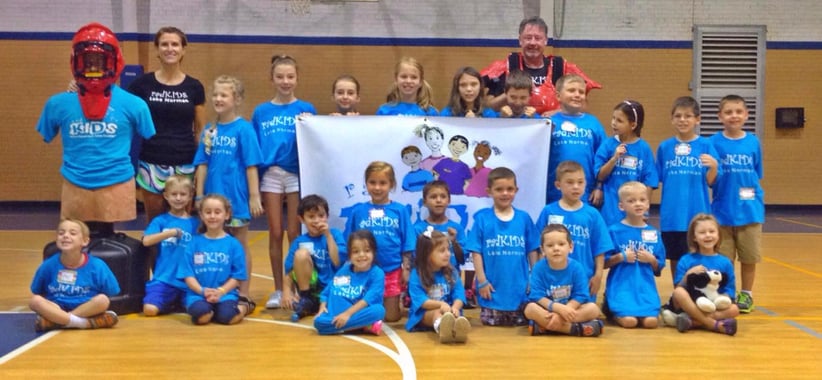 We interviewed Karen Fisher, owner of radKIDS Lake Norman, to learn the history behind the organization and gain a better understanding of what they're doing in the community to make a difference in students' lives.
Here's what Karen had to say:
Q: What is the story behind radKIDS Lake Norman and what inspired you to embark on this journey?
In 2012, I took a local RAD for Women self defense class that was sponsored by our local police department. The skills that I learned from that class and the empowerment I felt was a life-changer for me. I was also a mom of 2 small children and thought these types of skills and personal awareness should be something all children should also learn.
So I researched radKIDS and discovered there was an instructor certification course. Both myself and my husband became certified. For us, however, because we are independent instructors, and not part of an organization such as a police department or school district, it took much more for us to get off the ground. ALL of the needs for the program were paid for out of our own pockets. We had to be creative in some areas to try and keep within a certain budget. But we accomplished our goal and hit the ground running in the fall of 2013 with the inception of Friends of radKIDS - Lake Norman!
Since then, we have been invited to bring the radKIDS program to 12 area schools and parks and recreation departments. Our greatest accomplishment was being invited to bring the program directly into a school curriculum environment and empower every child in grades K through 7! By the end of this coming summer, we will have empowered close to 1,000 in the Lake Norman area!
"radKIDS Lake Norman is dedicated to providing our children with a hands-on, activity-based, physical skill development program. It empowers children with instinctual options they need to recognize, avoid, and if necessary, respond to potential danger."

Karen Fisher, Owner of radKIDS Lake Norman
Q: What is the primary goal of radKIDS Lake Norman?
The goal of Friends of radKIDS - Lake Norman is to empower every single child within our community. We continue to strive to become a part of our local school's curriculum, but until then, we are happy to be a part of our community in any way we can.

Q: How many students does your organization serve and in what areas?
For after school enrichment programs, we currently serve 7 schools. For summer camps, we serve 3 town parks & rec departments and a large church. The ages for our program are from age 3 to age 12. Once the child turns 13, they age out. We encourage all of our radKIDS to return each year to get a refresher!

Q: What impact do you feel your organization has had on the local community?
Our impact is incredible! We love seeing the children's empowerment bloom from day 1. We give them life skills- skills that are important to keep them safe in the world we currently live in. radKIDS® puts the safety of kids in their own hands by SHOWING them how to be safe, not just by TELLING them what to do.
Other safety programs give children general guidance rules, show videos, or simply "talk" to the children. radKIDS Lake Norman is dedicated to providing our children with a hands-on, activity-based, physical skill development program. It empowers children with instinctual options they need to recognize, avoid, and if necessary, respond to potential danger. When a child is approached or grabbed by a stranger, bullied, or touched inappropriately, the response needs to be immediate, instinctual, and absolute. When empowered with realistic and instinctive skills to escape violence and/or harm, a radKID's mindset turns from "HELP ME, HELP ME!" to "HOW DARE YOU HURT ME!"

Q: How has your use of Peachjar impacted the organization?
Peachjar is an amazing tool that we can use to reach so many parents in our area. Without Peachjar, amazing programs like ours may not find it's way out into the community so easily.
Q: How can a child get started with your program? Are there any ways for others in the community to get involved?
If parents or teachers would like to bring radKIDS to their school, church, or recreation center, they can contact us at
karen@radkidslakenorman.com
. We can organize the class to fit the needs of each venue. In addition, we do Scouts Mini Sessions! If you have a Brownies, Girl Scouts, Cub Scouts, or Boy Scouts troop that would like to earn a safety badge, we can help with that! Also, we are always looking for community sponsors. Some of those opportunities include sponsoring tee shirts, Family Manuals, and scholarships.
One thing we pride ourselves on is inviting parents to join the class with their child. radKIDS is a family-centered program. Parents learn as much as the children when they hang out with us. However, we do understand that not all parents can join the class, so we send home a Family Manual with each child. Between each class, the kids and parents have homework! We ask the parents to read selections from the Family Manual with their child. This assists in opening dialogue within the family about what we are working on in class and can help parents talk with their child about things that are happening in our world.
---
Thank you Karen Fisher and radKIDS Lake Norman for all that you do! Learn more about how you can help support or donate to radKIDS Lake Norman here.
Also, be sure to subscribe to our blog to read next week's Customer Spotlight!