Forming a marketing strategy that satisfies all of your organization's needs doesn't have to be difficult. Peachjar fits seamlessly into your current marketing strategy and makes your communication more efficient and effective. Here's a look at how all your communication tools fit together: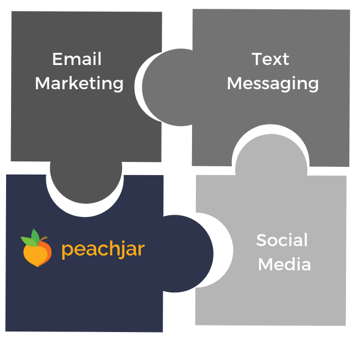 Email marketing: Use your email marketing tool to communicate more immediate information to parents, such as progress reports and updates. Email also allows you to personalize your communication with parents. For example, consider sending a fun email to parents on their child's birthday or send program-specific updates based on each child's enrollment. These email practices are a great way to make your communication feel more personal and relevant to your families
Text messaging: Text messaging is a great tool for communicating information that is time sensitive or very important. Texting is effective for emergency notifications and questions or concerns that require a timely response. Parents nearly always have their cell phones nearby, so if you need to reach parents quickly, texting is the way to go.
Social Media: Social media is something your organization should prioritize using because it's an effective way to build your brand's voice and interact with families and potential customers. Share your awesome video and photo content on your social media pages to keep families up-to-date on all the fun things going on at your programs and events.
Peachjar: Using Peachjar is a reliable way to reach parents because flyers are sent to their email inboxes from their child's school--making it a channel that parents trust. Peachjar allows you to send information about your upcoming programs and events in a visually engaging format. You can also include clickable call-to-action buttons that link directlyImplement online registration so that parents can sign their children up for your programs right from their email using Peachjar's 'Sign Up Now' call-to-action button.
Adding Peachjar in among your other communication tools makes for a comprehensive, effective marketing strategy that will help your program reach more parents and increase registrations. Learn more about Peachjar.