At Peachjar, we know that change can be scary, especially when you've done things the same way for a long time. However, change is often necessary in order to meet the ever-changing needs of today's customers, as technology use continues to increase and new innovations emerge in the marketplace. This shift to a technology-driven society impacts the way our customers think, behave, and make purchasing decisions - and to be successful, we must change the way we deliver our products and services to ensure that we're providing a positive experience to our customers on a channel that meets their growing needs and expectations.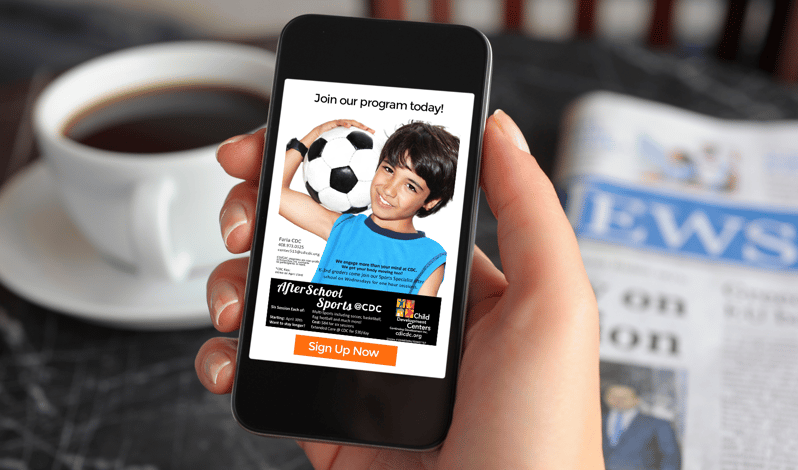 If your organization has relied on paper communication as the primary method of reaching K-12 families, it may be time to consider the benefits of transitioning to digital communication - specifically digital flyers. Digital flyers are a great way to get the word out to families about your programs or services and are very effective at driving parent engagement and conversions, especially with today's tech-savvy parents!
However, if you're still hesitant, that's understandable. There are common misconceptions about digital flyers and some have been brought to our attention over the past few years. Today, we're going to bust those myths!
Here are 5 common digital flyer myths and reasons why they are not true:
Myth #1: Parents don't have access to internet or computers - The rate of internet users is higher than ever and continues to rise. According to Pew Research, 95% of U.S. adults under age 50 have access to the internet, meaning that most parents probably own a computer or tablet, can access a device in a public facility such as the local library or at the school site, or can use the internet through their personal smartphone. Low-income famlies may also qualify for a free or discounted smartphone and cell phone plan through the Lifeline Assistance Program.
Myth #2: Parents don't open the emails containing the digital flyers - With Peachjar, digital flyers from afterschool program providers and other K-12 service providers are sent alongside important flyers from the school, such as minimum day reminders, weekly lunch menus, and open house announcements. Therefore, parents must open their Peachjar emails to ensure that they don't miss out on critical information from their child's school. Additionally, according to Project Tomorrow's 2016 "Speak Up Survey", 87% of parents said that a personal email is the most effective vehicle for communicating with them.
Myth #3: Digital flyers don't reach a lot of parents' email inboxes - All parents that are on file at the school district are registered for Peachjar and will automatically begin receiving digital flyers from their child's school. Parents can opt out of email communication if they wish to. However, this is uncommon because they will no longer receive important information from their child's school.
Myth #4: Digital flyers are ineffective - With traditional paper flyers, registration is often delayed because parents are required to print out a form, fill it out by hand, and then deliver it in person or mail it in. Digital flyers on the other hand, allow parents to easily and quickly register for programs and activities online. According to the 2016 Peachjar Parent Survey results, 62.5% of parents stated that they register for activities and events either online or by email. Peachjar makes it even easier for parents to register by providing multiple button options, including "Sign Up Now", "Learn More", "Download App", and "Call Now".
Myth #5: Parents prefer to receive paper flyers - According to this year's Peachjar Parent Survey, 86.5% of parents prefer receiving digital flyers over paper flyers. Parents can receive and view information from their child's school without the hassle of paper and can easily register for programs and activities on the go, and not to mention, the environmental benefits are also significant! We're proud to say that since 2011, Peachjar has helped save schools and organizations over 1.5 billion sheets of paper. That is equivalent to over 185,000 trees! How awesome is that?
The thought of switching to digital flyers may be daunting at first, but we promise - the pros far outweigh the cons and once you start reaping the rewards, you'll wonder why you waited so long to make the transition. Learn more about the benefits of digital flyers.
Ready to start reaching parents digitally?