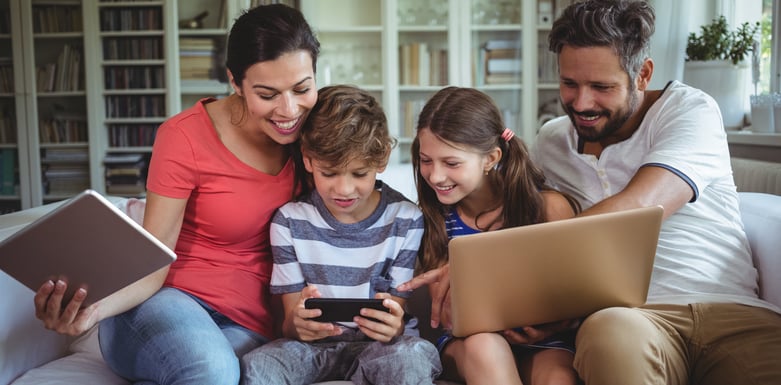 There's no denying that digital communication is quickly becoming the main way to inform and stay connected with parents. Still, many schools, especially those in low-income or rural areas, worry about how many of their parents simply don't have access.
According to Pew Research, 95% of U.S. adults under the age of 50 access the internet, and 85% own a smartphone - so while it's true that many parents access the internet via their mobile device, 1 in 4 families lack internet connection in their home. Access to the internet is becoming increasingly important for children and young adults, who rely on it to complete homework assignments and job applications. Therefore, enabling students to access the internet at home is an important step in bridging the technology gap. The good news is that there are programs here to help!
Enter EveryoneOn - a national non-profit program working to eliminate the digital divide by connecting families to low-cost internet, services and computers. Their network includes programs such as Access from AT&T, Internet Essentials from Comcast, and Connect2Compete from Cox Communications. The organization strives to get all families online, Chike Aguh, CEO of EveryoneOn says, "The internet and the opportunity it brings need to be within reach of every person in the United States, regardless of race, income, or geography."
Since 2012, EveryoneOn has connected more than 400,000 families in the U.S. and has further strengthened its impact by promoting digital solutions like ConnectED by Sprint and T-Mobile's ConnectHome plan - who all share the same goal of getting families low-cost internet, devices and training. ConnectHome has been making waves in HUD communities, Julian Castro, U.S. Department of Housing and Urban Development Secretary says, "ConnectHome is opening doors of opportunity for our next generation of Americans. In one short year, the initiative has expanded its reach to more than 1.5 million children." These programs have successfully changed the lives of millions of families, and continue to stay committed to digital inclusion for all communities.
These services are crucial for closing the digital divide. If you're interested in getting more of your families online, share this flyer with your community. For more information on which programs are active in your community, visit EveryoneOn's website.
Thank you for helping your families stay connected!