Much of what we talk about here at Peachjar is how we can provide support for the whole child. Fun fact: it's actually in our mission statement: to unite communities to enrich the lives of children outside the classroom. This support is offered in and out of the classroom, through academics as well as fun, after school activities. In the fall, we started to ask what more we could do to support students and the answer to support the schools we work with was an obvious one.
From there, we started to scope out the Peachjar Extra Credit Award. The award is given to an individual school who does an exemplary job engaging with their community for the betterment of their students and families. Our goal is to highlight and celebrate schools as they do what they do best: support students and create a safe, effective, and fun learning environment.
In the fall, we sent out an email to our school district contacts asking for nominations for schools and examples of how they connected with their communities. What we got back amazed us! Here's just a couple of examples:
"Keller Elementary is not just a place of learning, but a place of community building. As part of the International Baccalaureate curriculum, students are engaged with their communities from their first days at Keller until their last. From projects involving Community Helpers in kindergarten, to learning about various cultures' holidays in first grade, and exploring the array of governmental forms in fourth grade, students are always engaging in community-based learning. Even through COVID, students and the community have pulled together to create new spaces online and safely outdoors. In their final year at Keller in fifth grade, students are engaged in a large project that positions students as problem solvers for a community issue. For this project, students work with a staff member and community members to better learn about and find solutions for an important social problem. This is the type of learning and community building that Keller fosters that goes well beyond the classroom." —Helen Keller Elementary School, Royal Oak Schools.
"They say that "it takes a village" when it comes to raising and educating the leaders of tomorrow. Scott L. Libby Elementary, in collaboration with their PTA organization has done an exceptional job of engaging their parents and entire school community through the Peachjar platform. This engagement has created a positive learning environment for the students, something that was truly needed as they returned to the classroom after a very stressful learning experience through the pandemic. They have even started a Dad Engagement chapter of their PTA. Scott L. Libby Elementary and their PTA are prime examples to their students on the 4 Cs, Critical Thinking, Communication, Collaboration, and Creativity." —Scott L. Libby Elementary School, Litchfield Elementary School District.
Once we closed nominations, we selected a winner at random and it was Holdeman Elementary from the Tempe Elementary District in Arizona! We reached out to them and set a date to have a small ceremony at their school to present the award.
On Monday, November 14, Matthew Jennings, Peachjar's Community Partner Manager, headed to Holdeman Elementary to meet with their team and present a check for $1,000 to Holdeman's principal Dr. Jeff Shores, who also highlighted the importance of community in schools, "Community engagement is critical. It allows for more resources for our children, and for our staff to be able to teach to their highest abilities." Tempe Elementary District shared a news report about the visit on their website.
Meeting with school leaders and a cafeteria full of students, Matthew told them about our mission and how awesome we think their school community is! We think Matthew says it best: "there's no better way than to give back to the very schools that have given so much to us over the years."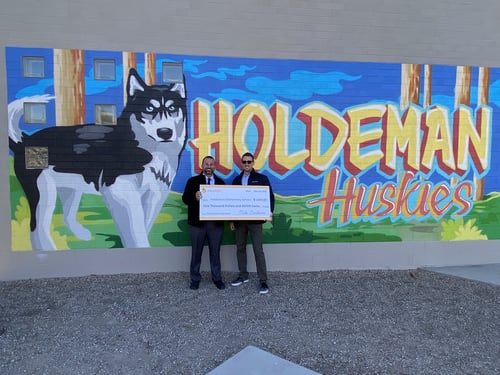 Want to read Holdeman's nomination? We're happy to share it: "Holdeman has been building relationships with the community for some time now. It has grown even more in the last five years. Holdeman now has a food pantry that helps the families in their community. They are able to provide food for families once a month. The relationships that Holdeman has built with their business and community partners have helped to provide new playground equipment for their students as well as building better relationships within the school itself."
Congratulations to the Holdeman Huskies! Thank you for making the inaugural presentation of the Peachjar Extra Credit Award so much fun. We can't wait to do it again!