Charles Marcus Jr. started the Dickinson Music Enrichment Center in Dickinson, Texas when he recognized there was a need in the community for music lessons that reach lower income families and younger aged children. The Dickinson Music Enrichment Center provides free after school music lessons for underserved children in the Dickinson community and allows children to participate in a music program 2 years earlier than the local independent school district. The center also provides hiring opportunities for high school juniors and seniors who are members or section leaders of their school bands.
The Dickinson Music Enrichment Center is still only in its infancy, having just started lessons in February, 2023. However, its potential as a vehicle to help children flourish can already be felt resonating, much like the music filling their building. "There is one young man that stated to us that he was excited to learn to play drums so he could play with his grandfather in their church band," said Charles.
"Whether it's music, athletics, summer camps, science club, or another type of after school activity, we all likely have some sort of after school program experience that we can look back on as adults and say that experience made an impact on how we grew up," said Peachjar CEO, Mike Durham. "In fact, we have people here at Peachjar who can say with certainty that they wouldn't be the people they are today in life without their musical experiences as children. Raising up nonprofits and small businesses like the Dickinson Music Enrichment Center is so important for raising the next generation and we are proud to help be a part of that."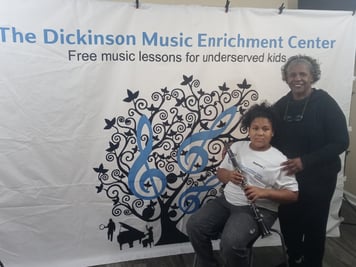 Why Peachjar
"Being a nonprofit organization that serves low to moderate incomes families at no cost, Peachjar was a no-brainer for us," said Charles. "Peachjar reaches all of the kids in our local independent school district, making it easy for us to reach a lot of families we couldn't reach on our own."
Through Peachjar, the Dickinson Music Enrichment Center has been able to make contact with hundreds of parents, possible donors, and ambassadors for their program. "Peachjar is easy to use and their support department is wonderfully responsive. My suggestion to any organization that serves children and families is to utilize Peachjar."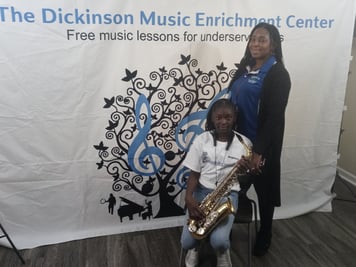 Build a Strong Flyer
School districts must approve all flyers that are sent out to their families with Peachjar. Different school districts have different guidelines for what can and can't be sent. It is important that you are familiar with your local districts guidelines before submitting a flyer. The number one most important thing to start with is that your flyer is promoting a program, service, or resource that directly benefits children. Peachjar's mission is to create a place where parents can go and have access to all of the community resources available to their children in an easy to access way.
Beyond making sure the core goal of your organization is about benefiting children, you also want to make a flyer that grabs people attention! Visit our tips for success page to learn more about how to create a strong flyer!